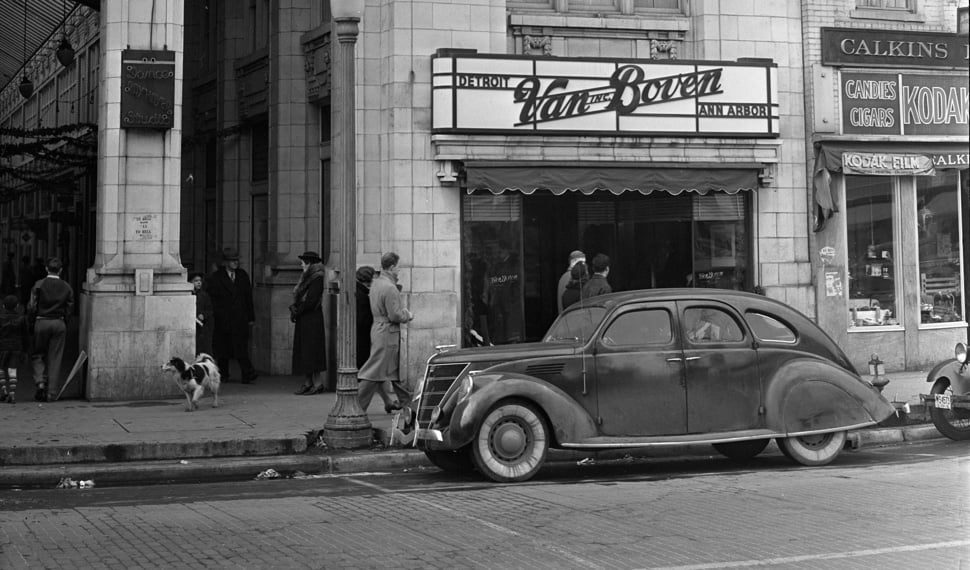 Peter J. Van Boven (Founder)
Peter J. ("Pete") Van Boven was born on April 14, 1896 in Grand Rapids, Michigan.  He was the youngest son of Jacob and Delia Van Boven, who had immigrated to the United States from Ellewoutsdijk, a small seaside village in the Netherlands.  Like many first-generation Dutch-Americans, the Van Bovens sought greater economic opportunities for their family in America.  They were also observant members of the Christian Reformed Church in Grand Rapids, which forbid any recreational activities on the Sabbath.  This required the youngest Van Boven to hide his baseball glove outside of the house, so he could slip away to play in the neighborhood pick-up games with his friends on Sundays.  That baseball glove eventually led him to the University of Michigan in Ann Arbor, which changed his life forever.  From 1917-21, Pete was an outstanding student-athlete at Michigan, achieving success in the classroom as well as on the baseball field.  More importantly, he met Marian Kolb, the love of his life and wife of more than 60 years, by chance while they were both shoveling snow in front of the Phi Kappa Sigma and Sorosis houses on Washtenaw Avenue.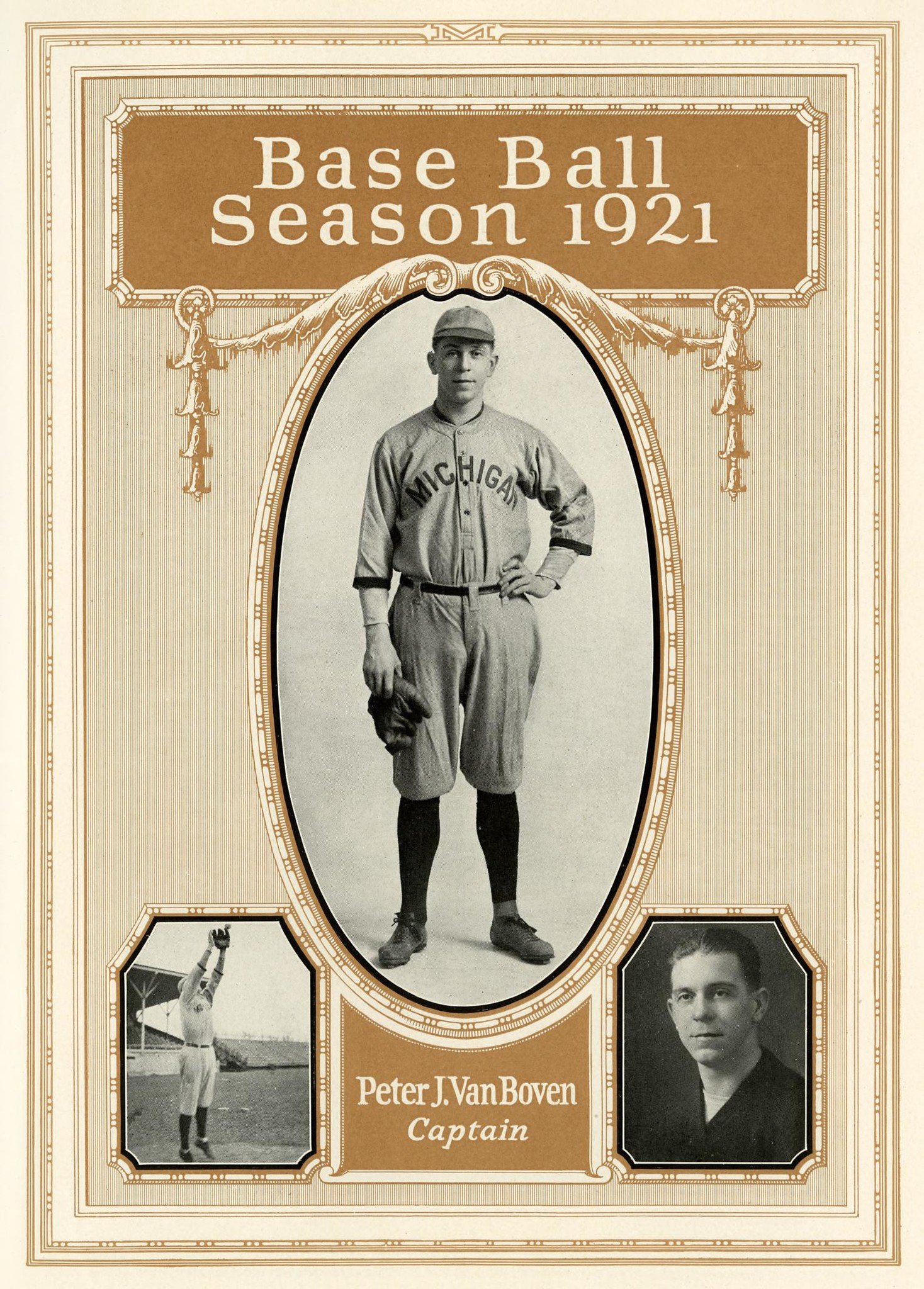 As a stellar shortstop for the U of M baseball team, Pete earned three varsity letters, won three conference championships, and captained the 1921 team. During Commencement Week, in the final at-bat of his final game in a Michigan uniform, with the score tied 0-0 and two outs in the bottom of the ninth inning against a very good visiting team from Japan, Pete hit a rocket down the third base line at Ferry Field that instantly became a legendary "walk-off" home run to win the game for the Wolverines.  Pete's baseball accomplishments at Michigan attracted a letter from Ty Cobb asking him to play for a minor league team during the summer of 1921.  Accepting Cobb's offer, Pete posted a .310 batting average and a .975 fielding average that summer, which resulted in an opportunity to play professional baseball for a living.  However, an excellent business opportunity in Ann Arbor proved to be more appealing to Pete's impeccable entrepreneurial instincts.  A men's clothing store on South University was going out of business, so Pete and two of his close friends decided to purchase the lease and inventory from the owner and start their own men's clothing store, launching "Van Boven, Cress, and Thompson" during the fall of 1921. 

Van Boven, Inc.
Over the next few years, Pete became the sole owner of the business, changed its name to Van Boven, Inc., and relocated the store from South University to its present location in historic Nickels Arcade on State Street, directly across from the University of Michigan's central campus in Ann Arbor.  Pete's enduring vision was simple but elegant…provide discerning customers with the very best men's clothing, consultation, and service at a price commensurate with their value.  As a result, the store thrived in its early years, especially during the Roaring Twenties and Prohibition Era, when fine clothing, great service, and distilled spirits occasionally converged.  In those days, it wasn't uncommon for Van Boven's best customers to be treated to some of Al Capone's finest whiskey, delivered straight from the south side of Chicago to the basement of Nickels Arcade.  The store's prosperous beginning served as an excellent foundation for the decades of success that followed.  Pete and Marian opened a second store in Detroit in 1929; they owned and operated Van Boven, Inc. for nearly 70 years, building lifelong relationships with loyal customers and guiding the stores through the Great Depression, WWII, the postwar years, and changing fashion trends.  Pete remained active in the business on almost a daily basis until his passing in 1991.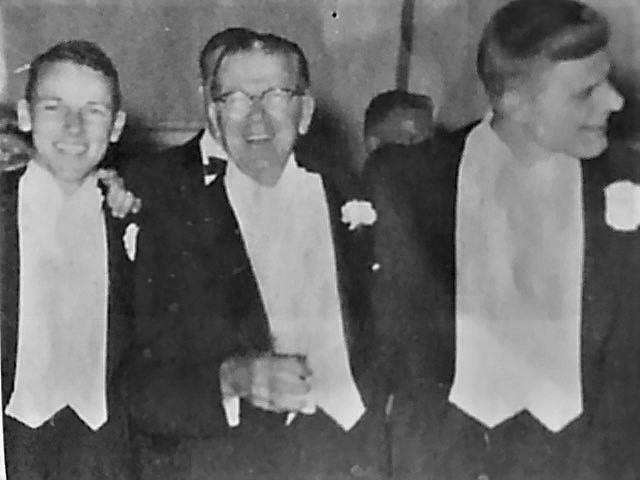 During the 1950's and 1960's, Pete was joined in the business by his son Peter J. Van Boven, Jr. and son-in-law James A. Orr.  Both men enjoyed long and successful careers at Van Boven, Inc., building relationships with new generations of customers, growing the business, and greatly expanding the store's offerings of casual wear to help our customers adapt to the new and more relaxed dress codes that emerged inside and outside of the workplace during the 1970's and 1980's. The two men were aided greatly in this effort during the 1990's and 2000's by Peter Orr, a third generation member of the Van Boven family as well as retired store managers Gary Clark and Alex McEachern. Since then, several other third-generation family members, a fourth-generation family member, and several men's clothing professionals have joined the team that is now stewarding Van Boven, Inc. as it approaches its 100-year anniversary.